Backcountry Contracting Ltd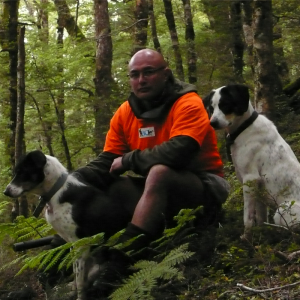 BCL  specialises in planning, logistics, implementation and reporting of ungulate control operations, surveys and consultation. BCL is committed to the industry and plans to forge long lasting relationships with all of our clients.
Be it an initial knockdown, sustained control or an eradication/zero density program, BCL has highly skilled, experienced hunters and specifically trained indicator, finder/bailer or indicator/bailer type dog teams to complete the task.
Backcountry Contracting LTD was started by Jason Hart in 2003 after 8 years as a professional hunter, while working throughout New Zealand for the Department of Conservation. Jason has also completed a degree at Massey University, gaining a double major in Pure Mathematics and Physical Geography prior to embarking on his professional hunting career.
This background has given Jason the necessary practical, analytical skills and attention to detail that is required to manage New Zealand's leading ungulate control team. With more than 25 years practical experience behind him and an eagerness to adopt and develop more effective and efficient methods of control, monitoring and reporting techniques, BCL towers head and shoulders above its rivals.
Having planned and delivered in excess of 80,000 hours of ungulate control in the past 12 years has seen BCL become the most experienced contracting company in New Zealand.