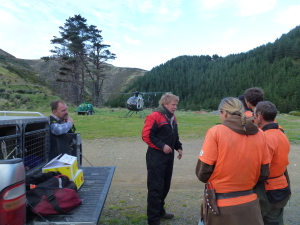 An excellent Health and Safety culture exists within the BCL team, all team members are qualified 1st aiders.
Health and Safety briefings are undertaken prior to the commencement of all BCL control operations.
BCL has a specifically trained health and safety representative.
Employers and BCL conduct regular audits of personal PPE (personal protective equipment) and backcountry safety procedures.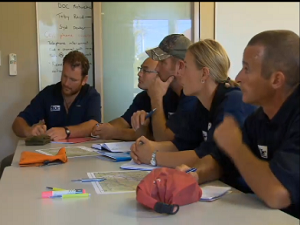 BCL supports and believes in a drug free work place. All of our personnel adhere to the BCL drug free policy, with  pre employment, post incident/accident and random work place screening.
The BCL team has invested in the latest GPS tracking technology; the GARMIN ALPHA 100 (will be available October 2014). This new equipment is certified legal in New Zealand. Each individual handheld unit is trackable and allows each hunter to be located immediately, this would minimise time and effort spent searching for a hunter and maximises the opportunity for a hunter to be located quickly and safely.
BCL adheres to, and complies with the Health and Safety Act 1992 and is dedicated to the safe work practices and environment of its employees, sub contractors, and the public from accident, injury and/or damage from work carried out by BCL.
Each hunter carries
Personal Locator Beacon (PLB)
Spare dry thermal base layer
Torch and spare batteries